BACKPACKER'S REFUGE, THESSALONIKI
wellcome
A modest apartment is set up to welcome backpackers from around the world in a clean and pleasant environment. Situated near the city center (5' bus ride) and the water front (2' on foot) is well connected to the Train Station, Bus Station and the Airport. Backpacker's Refuge is probably the best place for travelers to meet in Thessaloniki, since it is one of the very few hosteling options in the city. Designed and run by a devoted backpacker, this new hostel hopes to provide a warm and comfortable stay for anyone who has a genuine interest in traveling while on a tight budget. Please contact the management prior to your arrival since the staff is not present around the clock.
Reservations at: backpackers_refuge@hotmail.com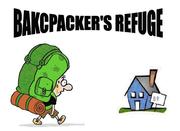 Friendly environment
We provide little facilities but we will try to accommodate most of your travel needs
24 hour hot water
free linen
washing machine
kitchen area
free city map
lots of info about Thess
info on activities in Northern Greece
pick up and other transport options
free internet
Getting there from...
Airport: Bus 78 (bus stop "25 MARTIOU")
Train station: Bus 3 (bus stop "ANALIPSI")

Bus Terminal: Bus 8 (bus stop "GEORGIOU")
Due to our small capacity ADVANCED BOOKING is recomended